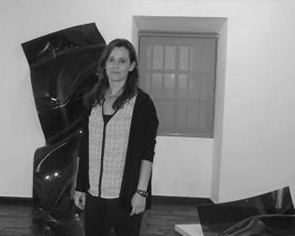 Izascum Escandon (Bilbao, 1973)
Izascun Escandón´s artistic training commenced with audiovisual and cinematographic studies in various centers in Spain and the United Kingdom. In 2001 she obtained a Bachelor´s degree in Mixed Media Art by the University of Westminster, London. In 2006 Izascun completed her artistic training with a Master's degree in Theory and Practice of Visual Contemporary Arts at the Complutense University in Madrid.
Izascum´s pieces are disembodied sculptures that explore the limits of the audiovisual image and their link to the mental image creation. Her work explores the moving image which displayed the space, oversteps its two-dimensionality, turning into a durable material.
She has exhibited in cities such as London, Madrid or Burgos, and has been present at events like V Raindance Film Showcase Festival, in London, American Dance Festival in North Carolina, II Portobello Film & Video Festival, also in London, 26TH session of cinema and Video of Cuenca, IV and VII festivals of Video Creation of Alacant Video, in Alicante.
Artwork available by Izaskum Escandón at Aurora Vigil-Escalera Art Gallery:
If you are interested in any of the artworks below, or would like to receive information concerning this artist, please click here.