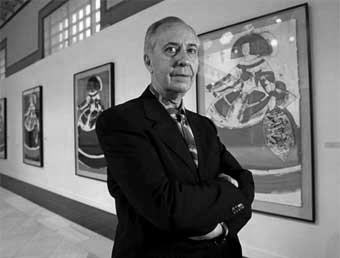 Manolo Valdés (Valencia, 1942)
Currently lives and works in New York. He introduced in Spain an art form combining political and social commitment with humor and the irony. In 1964 he founded the artistic group "Equipo Crónica" along with Juan Antonio Toledo and Rafael Solbes.
Influenced by Velázquez, Rembrandt, Rubens, and Matisse, Manolo Valdés produced large format works in which lights and colors express a sense of tactility in the materials treatment. His work forces the viewer  explore his memory and seek significant images from the history of art.
Valdés has exhibited in cities around the world like Istanbul, New York, Dusseldorf, Georgia, Monaco, Florida, the Hague, Saint Tropez, San Francisco, Paris, Helsinki and London and his work is in prominent museums and collections such as: Foundation of the Guggenheim Museum Bilbao, Fundación La Caixa, Fundación Juan March, MOMA in New York, Museo Es Baluard, Palma de Mallorca or the Museo Nacional Centro de Arte Reina Sofia, among many others.
Valdes has received several awards, among them: the awards Lissone and Biella in Milan, the silver medal of the international biennial II of prints in Tokyo, the prize of the Museum of art of Bridgestone in Lis'79 in Lisbon, Premio Nacional de las Bellas Artes; the Alfons Roig award, Premio Nacional de Bellas Artes in Spain; or the Medal of the Biennale of the International Festival of artists in Baghdad.