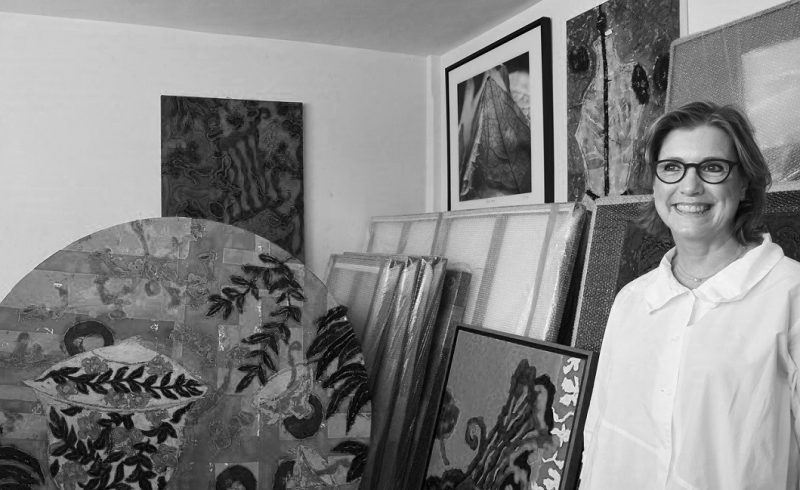 Marcela Lobo (Mexico City, 1959).
The work developed by the artist Marcela Lobo stands out for containing, capturing and representing pictorial compositions whose fundamental characteristics are a deep lightness and an enigmatic weightlessness. In his work nothing is still and each form, color or object is kept in a continuous state of transit, change and imbalance. Instability fills his canvases, and shapes his particular and metaphorical way of representing the world. It is this nature that opens a number of possible readings, sensations and perceptual stimuli about his work.
Marcela Lobo has a defined style marked by the color that reflects the vivacity of nature and the simplicity of the world, body and objects that accompany us every day. Hence, the approach to his work is a journey through familiar elements but framed in the personal vision of the author, an unusual approach to shapes and colors that gives everyday objects new senses and numerous possibilities.
In his pictorial production there is no before or after, there is no linear narrative or story to decipher, but a permanent flow that extends, activates and atomizes the present moment.
Marcela Lobo was trained in various fields, such as drawing, graphics, talavera, art object or photography. His production has covered a wide and versatile range of genres in the visual arts and has maintained a constant presence, alone and in collective exhibitions, in numerous national and international exhibitions, such as those held at the Dolores Olmedo Museum (2003), the Gallery de Arte Oaxaca (2004), Casa Lamm (2004), the Consulate of Mexico in Chicago, The Defoor Center of Atlanta (2006), the Museum of Fine Arts of Toluca (2008), and Museum of Modern Art of Toluca (2010) ), to name a few.
Artworks for sale by artist Marcela Lobo at Aurora Vigil-Escalera Art Gallery:
If you are interested in purchasing any of the artworks below, or wish to receive information concerning this artist, please click here.