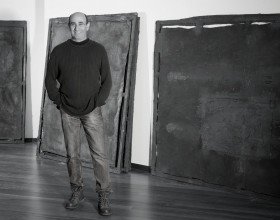 Mariano Matarranz (Madrid, 1952):
His painting is fully coherent both formal and conceptual research on the subject being the guiding principle of his aesthetic level.
In his works, the surfaces are characterized by the combination of pigments and resins that generate abstract compositions of countenance oxidized in the corrosion of the materials evokes the passage of time.
Internationally renowned, Mariano has shown his work in galleries in Rome, Zurich, Vienna, Frankfurt and Paris. In addition to having been present at leading art fairs such as Art Chicago, Art Basel, the international art fair in Chicago and ARCO, among others.
His painting is part of important public and private collections: Museum Jovellanos de Gijón, Museum of Fine Art of Oviedo, Foundation Princess of Asturias Foundation, Masaveu collection, Dove of Switzerland, Congreso de los Diputados in Madrid and Spain's Embassy in Beijing.