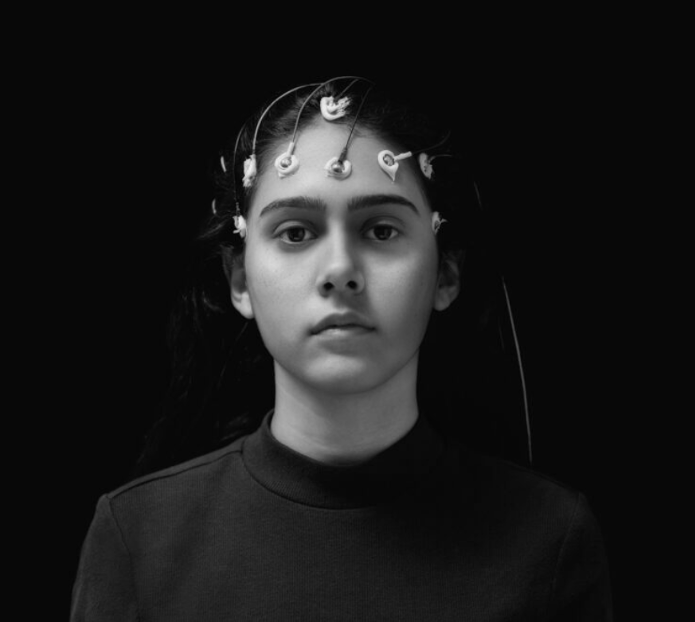 Alejandra Glez (Habana, Cuba, 1996)
Alejandra Glez is a self-taught Cuban visual artist based in Madrid. Her work is focused on the deconstruction of stereotypes and stigmas associates with the female body. Through photography, video art, digital art and performance, Alejandra works with topics associated with Afro-Caribbean religions, collective memory and the spirituality that emanates from the relationship between human beings and the sea.
In March 2023 she presents her performances "Rezos Rituales y Altares", curated by David Barro at the Museo da Historia e da Cultura Afro-Brasileira in Rio de Janeiro, and "Daughter", presented on the beach in Tel Aviv, Israel. In February, she presented her performance "Volver a nacer" at the Museo Nacional Thyssen-Bornemisza in Madrid as part of the program "Visión y Presencia" curated by Semíramis González. In March 2022, she took part in the international art fair ARCOmadrid with ENAIRE Fundation as a recipient of their Young Photography Award. Attached to the price there have also been exhibitions of her winning series "Liliths" at the Royal Botanical Gardens during the opening of the PHotoESPAÑA 2021 Festival and in JustMad 2021. She was recently awarded the scholarship Máster PHotoESPAÑA in Photography, Theories and Artistic Projects. Alejandra is the first Cuban artist to have an NFT drop completely dedicated to promoting her work within the crypto market. In 2020 she was a finalist in the XIV edition of the Arte Laguna Prize in the Video Art category, which allowed her to exhibit her award-winning work at the Arsenale venue of the Venice Biennale.
Her work has been part of numerous solo and groups exhibitions in America and Europe, including "El camino recorrido: Works by Alejandra Glez 2018-2021" (Aurora Vigil-Escalera Art Gallery in Madrid), "La vida es inmortal cuando se acaba" (Acacia Gallery, Havana, Cuba, 2020). In the groups "Una Partitura Feminista Radical, virtual of MIA Art Collection" (2021), "Un viaje de ida y vuelta", Luciano Méndez's Collection, DA2 Museo, Salamanca, Spain (2019) and "Detrás del Muro", XIII Havana Bienniale, Havana, Cuba. She has been part of artistic residences at FUGAZ, Arte de Convivir (Lima, Peru) and Clorofila Digital (Madrid, Spain). Her work can be found in private collections in the United States of America, Spain, Peru, France, Portugal, Belgium, Israel, Mexico and Cuba.
Digital Catalogue:
Works for sale by Alejandra Glez at Aurora Vigil-Escalera Art Gallery:
If you are interested in any of the artworks below or would like to receive further information about this artist, please click here.