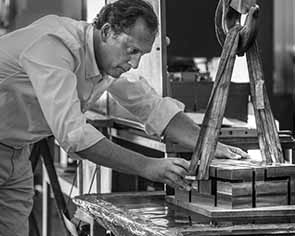 Arturo Berned (Madrid, 1966):
Berned is an architect and sculptor whose work is based upon the reinterpretation of both shapes and metal. With an abstract approach, his works are conceived on the basis of the laws of mathematics and highly symbolic geometric impulses, the result of which is a series of works created on the basis of the golden ration (also known as the golden number or the phi number).
Over the past 15 years he has produced an intense body of monumental or urban works which is one of the identifying marks of his artistic work. An outstanding knowledge of metal means that his works are conceived using either corten or lacquered stainless steel interspersed with the employment of aluminium and bronze.
Exhibitions, awards, collections and international Art Fairs:
In 2000 Berned was for the first time recognised with the international award "Puerta Escultura Loewe" and again in 2012, the IVAM is host to what so far has been his most extensive exhibition. The 50 works held by this museum in Valencia represent a journey through the artist´s creative world. In 2013 he was selected to be the first Spanish artist to submit his version of the classic ´Lady Dior` bag in the exhibition ´Lady Dior As Seen By` and shortly afterwards was chosen to represent Spain in the ´Dual Year – Spain-Japan` (2013 – 2014).  Berned´s works have also been exhibited at Art Miami (2014), the Bienal del Sur, Panama (2013) and Espacio Leitner, Madrid (2011).
Berned has received numerous awards including: First Prize in the Concurso Internacional Escultura Monumental Puerto Venecia, Zaragoza (2012), First Prize at the Concurso Internacional Puerta Escultura Flagship Loewe, Madrid (2001), or the Premio Internacional de Escultura de Caja Extremadura.
His work is part of numerous museums and collections such as: Mori Museum Collection, Mitsui, IVAM, Christian Dior collection, BMW collection, Gestamp collection,  Grupo Caser collection, Iberdrola collection, Sóller Museum, Fundación Loewe, Fundación Maraya, Caser, Colección Iberdrola, Museo Soller, Fundación Loewe, Fundación Maraya, Ministerio De Economía Y Hacienda or Unión De Empresas Siderúrgicas, among others.
Available work at Aurora Vigil-Escalera Art Gallery: