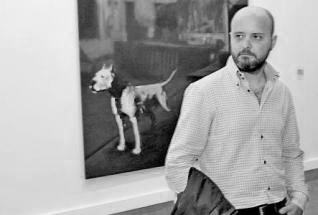 Bernardino Sanchez Bayo (Granada, 1978):
In Sanchez Bayo´s work continuous references to death, fear, or the sinister through lack of light can be easily identified. A hard stroke and dark palette, which moves between grey, white spotted and black are the dominant features.
In terms of composition and thematic, the use of the color with a tenebrist sense is emphasized, contrasting shades and images religiously influenced, or dogs as protagonists. The latter are always menacing, powerful dogs of a considerable size, with an expressive and naturalistic expression.
He has exhibited in cities such as Granada, Malaga, Gijón, Valencia, Santander, Pontevedra, Ferrol, Ceuta or Jaén and his work is in collections such as the Fund of Art Talens, Barcelona; Fundación Rodríguez Acosta, Granada; Manor Emilia Pardo Bazán, Pontevedra; Royal Academy of Fine Arts Nstra. Ms. las Angustias of Granada, collection of Contemporary Art Unicaja, Malaga or Fundación Caja Rural, Granada.
Also winner of awards such as Gijón Young Painting award, First Prize at the contest "Passages of light", Granada; First prize in the Fourth National Painting Club Naval de Ferrol contest, and the Acquisition Prize at the V Fine Art Academy Royal Academy Drawing competition in Our Lady of las Angustias in Granada. Sanchez has also obtained the Paisaje Fundación Rodríguez Acosta o la Beca Talens 9ª convocatoria de Barcelona grant.