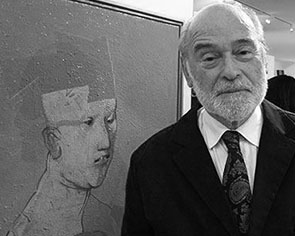 Miguel Condé (Pittsburgh 1939):
Painter, draftsman, and figurative Mexican engraver, lives and works between Madrid and Sitges.
Condé's work is characterized by a very personal figuration prevailed by fantasy and symbolism. Delicate coloured spots extend beyond the drawing line, in his canvases tinged with poetry. In the engraving world he is considered one of the most important contemporary masters.
Condé has received several international awards and is member of the "Société des Peintres Graveurs Français".
Closely linked in recent years to the catalan artistic environment, he has currently slowed down exhibiting at major galleries in Europe and America, having had received unanimous compliments from critics on both continents in the recent past.
Condé's work is represented in many museums and collections such as: MOMA (Museum of Modern Art in New York), Cleveland Museum of Art, Blanton Museum of Art in Austin, University of Essex Collection of Latin American Art, Museo Nacional Centro de Arte Reina Sofía in Madrid, Albertina in Vienna or the National Library of France in Paris.