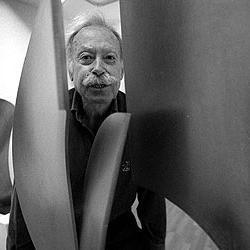 Amadeo Gabino (Valencia, 1922 – Madrid, 2004)
Prominent Spanish painter, sculptor and printmaker.
Gabino´s first sculptures can be described as figurative, however from the sixties he experienced a shift towards Constructivism creating an internationally renowned personal style, working with a series of overlapping metal plates organised like a shield. The materials he works with are iron, steel, aluminum and brass, combining two of them often to play with texture and sheen.
Also an engraver – such activity began in 1958 during his stay at the school of fine arts in Hamburg, in these works embossing and overlays of color stripes remind us of the artist's particular sculptural spiritual world.
Amadeo Gabino's work represented Spain at the Venice Biennales of 1956 and 1966, and at the 1964-1965 World's Fair. Likewise, he was awarded prizes as the third Medal of the National Exhibition of Fine Arts, Madrid, the I Prize of the II biennial Spanish-American, Havana or the Grand Prize of the X triennial of Milan among others.
His work is in museums and prominent collections as the Museo Nacional Centro de Arte Reina Sofia in Madrid, Museum oF Fine Arts in Bilbao, Museum of Contemporary Art of Seville, Villafamés Cabinet of Estampes Geneva, Fundación Juan March, Hamburger Kunsthalle in Hamburg, Brooklyn Museum, New York, Museum of abstract art in Cuenca, Museum of fine arts of Vitoria , among others.
Works for sale by Amadeo Gabino at Aurora Vigil-Escalera Art Gallery:
If you are interested in any of the artworks bellow or would like to receive further information about this artist, please click here.