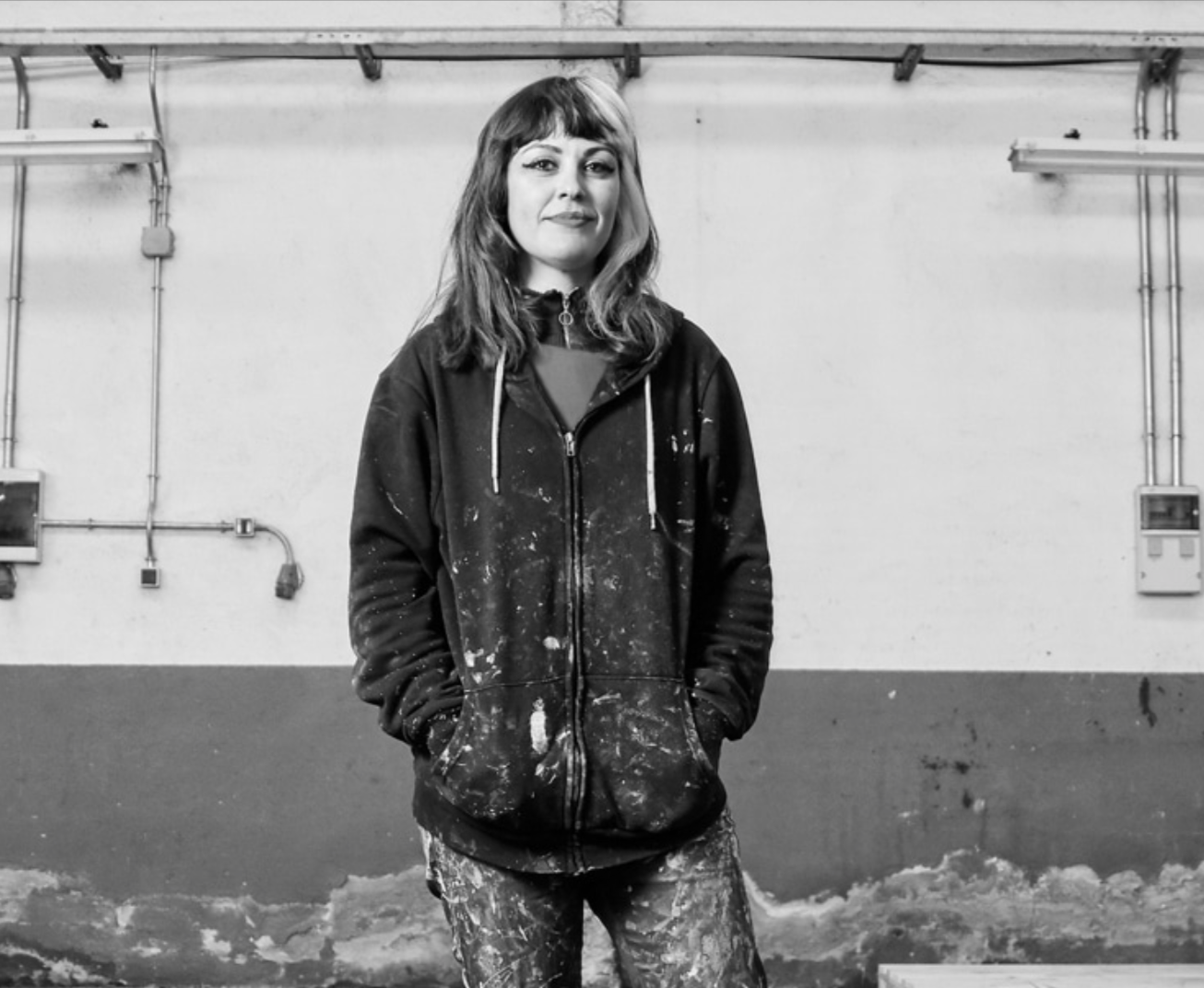 Ana Barriga (Jerez de la Frontera, 1984)
Ana Barriga, Bachelor of Fine arts by the University of Seville, currently lives and works in Madrid. She works with mixed media, using oil, enamel, felt pen, and spray, which she uses as an act of vandalism towards her own paintings, a hallmark of all her work. In her art, she deals with themes of transcendental importance such as life, death, love, sex, or human relations.
She strives to strike a balance in her work between reason and emotion. Two seemingly contradictory areas that, when confronted, create a powerful type of energy than she finds captivating. She focuses on fun environments, a place shared by artists and children where prejudices are left behind and the most unexpected parts of ourselves come to the surface. Humor, play and irony are the lenses through which she shows as in a different and unexpected way. It is from here that unpredictable situations emerge, situations that are new and attractive because they do not conform to any rules.
Barriga does everything she can to learn something new every day, and thus her work is not only inspired by passion but also by knowledge. She is dedicated to the study of painting, a language with a profound tradition and the place in which she thrives.
She rescues objects that are aesthetically playful or cute and intervenes on them by recontextualising and crystalizing them through her creative process. The result: a lively and colourful aesthetic which complements the relation between the definitive image and the title of the work, often eloquently punctuated and marked by irony.
Ana Barriga has been awardes, among her latest achievements with the Daniel Vázquez Díaz grant, the International Painting Prize by the Focus Foundation, as well as prizes in the University of Seville and CICUS Plastic Arts competition and the Generations 2019 competition. She has also received various Residency Grants for creators and has pieces in collections such as those at the Andalusian Contemporary Art Centre (CAAC) of Seville, Montemadrid Foundation in Madrid, Canary Foundation for the Development of Painting (FCDP), DKV Collection and the Contemporary Art Centre (CAC) of Malaga.
Works for sale by Ana Barriga at Aurora Vigil-Escalera Art Gallery:
If you are interested in any of the artworks bellow or would like to receive further information about this artist, please click here.
no images were found