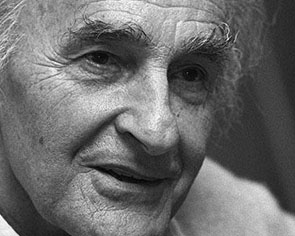 Eduardo Chillida (San Sebastián, 1924 – 2012)
Eduardo Chillida, sculptor, writer and academic, is considered to be one of the most influential Basque artists of the 20th century and the highest representative of the so-called Informalist Sculpture movement in Spain.
Within his work -both sculptural and graphic- Chillida defined spaces, creating holes and exploring the gaps, in order to stand at the edge of contour.
Chillida defined himself as the "architect of the void' due to the use of three-dimensional elements in his compositions which are not aimed to construct, but to create a new dimension instead.
He was the bearer of prominent awards such as the Grand Prize of sculpture of the Venice Biennale (1958), Kandinsky Prize in Paris (1960), prize of the Providence Arts Club of Rhode Island (1961), Lubyanka International Engraving Prize (1972), "Medalla de Oro al Mérito de las Bellas Artes" (1981), Princess of Asturias of the Arts Award (1987) and order to the merit of science and culture among others.
His work is present in more than twenty museums around the world, and retrospective exhibitions have been held in Houston and in Berlin, Madrid and Caracas, in London and in Palermo. His sculptures face the sea in San Sebastian – Basque Country, are set in the mountains in Japan, or can be found on the streets of cities such as Washington, Paris, Lund, Münster, Madrid, Palma de Mallorca, Guernica or Berlin. Additionally, architects, mathematicians, philosophers as Martín Heideggeer and Emile Cioran, or poets such as Octavio Paz have written about his work.
no images were found