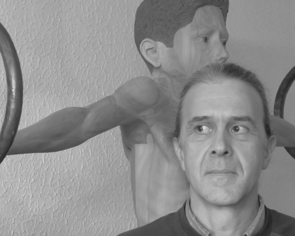 Gonzalo García (Gijón, 1966):
His path as a sculptor began in the early 1990s when Gonzalo attended "L´Europe D´Art D´Art" in Niort (France). There and beaten with an axe, a totem became his first work to be exhibited in public. Thereby performance, installations and even teaching sculpture courses for the Spanish Ministry of Culture characterize his early years.
Although he has made sculptures using stone, Gonzalo has focused his entire career materials such as iron, wood, however the unarguable link to the whole of his work is "cuchu" (Asturian word for manure). In order to be incorporated to his sculptures, the manure undergoes a series of processes: it is dried, ground, and mixed with polyvinyl becoming both, chipboard and smooth textures. Then manure constitutes a corpus for his pieces. Gonzalo´s technical woodworking process is highly complex: firstly the large-sized wooden sculpture skeletons prior to the carving must foresee multiple effects. Garcia then explores the negative space offered by his pieces when the wood is recessed, and it is precisely that void dressed with manure that becomes his true focus.
Gonzalo has exhibited in places such as Gijón, Oviedo, Valladolid, Murcia, Gran Canaria, Madrid, Barcelona, as well as France or Great Britain. It has represented Asturias "Galicia Terra Mítica", won awards such as the Certamen de Artes Plásticas in sculpture, First Prize at the I Sculpture Biennial at San Martín del Rey Aurelio, or a Mention of Honor in sculpture of the City of Badajoz Awards 2015.
Artwork by sculptor Gonzalo García at Aurora Vigil-Escalera Art Gallery:
If you are interested in any of the artworks below, or would like to receive information about Gonzalo García, please click here.