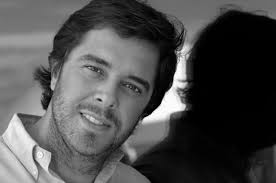 Hugo Fontela (Grado, Asturias, 1986)
Hugo Fontela's artistic training originated at the School of Arts and Crafts in Avilés where he learned to paint in an academical manner, and the School of Arts in Oviedo, where he prepared to enter into the Fine Art College, but ultimately decided not to, instead moving to New York at the age of 18. There, he continued studying at The Arts Students League, and set up his studio-workshop.
Within his compositions, most of the surfaces -elaborated with an extraordinary subtlety- are nothing but soil, water, tides, or sand. This is the leitmotiv of the poetic symbol repertoire motivating the painter's artistic concern.
Fontela has exhibited internationally in numerous shows in Madrid, Barcelona, Chicago, Cologne, New York, Caracas, Gante, and participated in national and international contemporary art fairs.
The artist has been awarded prominent prizes as the 20th BMW Painting Award, the Best Artist Award at ESTAMPA art fair -awarded by the "Asociación de Críticos de Madrid", or the "Premio Príncipe de Girona de las Artes" for his early but intense artistic career.
Fontela's work is present in major museums as well as national and international collections such as: National Library, Madrid, Citerior Ars collection, BMW collection, Madrid, Cajastur-Liberbank collection, Asturias, DKV collection Barcelona, Fundación Príncipe de Asturias collection, Oviedo, Asturias, Museo de las Bellas Artes de Asturias, Museo del Grabado Español Contemporáneo of Marbella, Malaga, or Eduardo Úrculo art gallery, Langreo, Asturias.
Works for sale by Hugo Fontela at Aurora Vigil-Escalera Art Gallery:
If you are interested in any of the artworks bellow or would like to receive further information about this artist, please click here.