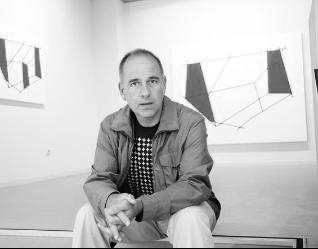 Lisardo Menéndez (Mieres, 1960)
Lisardo's deeply personal style emerges from monochrome backgrounds with enigmatic and dynamic structures that he turns into completely unique compositions. The order, balance and deceptive simplicity of his paintings immerse us in a pictorial constructivism in which blacks, whites and reds predominate in a geometric abstraction with subtle figurative allusions to architecture. Minimalism and Avant-garde come together in the theatricality of his compositions.
His work resides in the purest geometry, the most refined and completely exempt from any artifice that takes away from its essence. His painting is not easy and therein lies part of its beauty and greatness.
The viewer needs to take his time when regarding these paintings, to discover the imaginary landscapes that are hidden inside the white canvas, to unravel the mysteries that they contain and realize, behind the almost obsessive austerity and rigor, the unstable and complex reality that Lisardo proposes in his works and our role within it. Ultimately, and in the words of the artist himself, he asks the visitor to look inside the painting "because that is where things are produced."
This is not a simple exercise and perhaps for this reason, quoting Tomás Paredes' 2008 La Vanguardia article, "Lisardo has an explicit recognition from art collectors and a kind of aura as a cult artist for art critics who praises his purity, his linear and constructive mysticism, far from all affectation".
Lisardo has exhibited in Spain, France, Italy and Portugal and attended Contemporary Art fairs such as Art Madrid, Foro Sur, ARCO, Art Lisbon or Arte Santander. In addition, he has to his credit awards such as the XIX Nicanor Piñole.
His works are part of numerous private collections, institutions and museums such as the Fine Arts Museum of Asturias, the Caja Rural Collection, the Prince of Asturias Foundation, the Ministry of Culture, the Masaveu Collection, etc.
Digital catalogue:
Works for sale by Lisardo at Aurora Vigil-Escalera Art Gallery:
If you are interested in any of the artworks bellow or would like to receive further information about this artist, please click here.