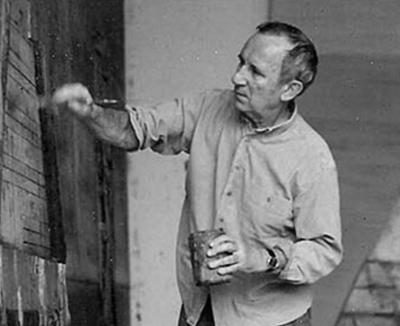 Lucio Muñoz (Madrid, 1929-1998) belongs to the 1950s generation, and is considered one of the pioneers of abstraction in the Spain.
Critics emphasized the expressive power of his work, full of mystery and with a strong presence of nature. His graphic work must be added to this (with vital technical contributions to the world of large-scale engraving) and mural works, including the apse of the Basilica of Aránzazu in Oñate (Guipúzcoa), and the wall presiding over the Pleno de la Asamblea in Madrid.
Muñoz has exhibited in numerous cities around the world and participated in fairs like ARCO and his work are part of prominent museums and collections such as: National Library of Spain, Fundación AENA, Bank of Spain collection, Banco de Santander collection, The Chase Manhattan Bank, New York, United States, Fundación Juan March, or Fundación "La Caixa" among many others.
Muñoz also has a number of awards under his belt, such as the Gold Medal of the biennial of art Sacro in Salzburg, engraving Arteder Prize, Premio Nacional de Artes Plásticas, CEOE Medalla de Oro al Mérito de las Bellas Artes.
Works for sale by Lucio Muñoz at Aurora Vigil-Escalera Art Gallery:
If you are interested in any of the artworks bellow or would like to receive further information about this artist, please click here.