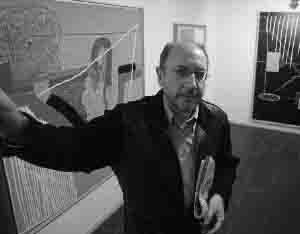 Pelayo Ortega (Mieres, 1956).
In his etchings and paintings the characters are reduced to brief, however highly expressive lines.
Pelayo Ortega is one of the Spanish painters of greater international scope, has exhibited in cities such as: Madrid, Barcelona, Palmade Mallorca, Cuenca, Teruel, Gijón, Monaco, Braga and Santiago de Compostela among others, and participated in contemporary art fairs such as ESTAMPA or ARCO.
His work can be found internationally in museums and collections such as: Laboral de la Construcción del Principado de Asturias Foundation, Oviedo, Mª Cristina Masaveu Peterson Foundation, Siero, Asturias, Prince Pierre de Mónaco, Montecarlo Foundation , Princesa de Asturias Foundation, Oviedo, Telefónica – FUNDESCO Foundation, Madrid, Museo de Arte Abstracto Español – Juan March Foundation, Cuenca, Museo de Bellas Artes de Asturias, Oviedo Museo de Bellas Artes, Santander.
Ortega has under his belt numerous awards and grants such as: First Prize at Nacional de Edición in the Bibiophile modality, Creación Plástica grant by the Gobierno del Principado de Asturias – Oviedo, Creación Plástica grant by the Centro de Promoción de las Artes Plásticas y Nuevas Formas Expresivas, Ministerio de Cultura, Madrid, Certamen Nacional de Pintura de Luarca award. Ayuntamiento de Valdés – CAJASTUR, Luarca, Asturias o First Prize for Drawing y First Price for Printmaking at the Cetamen Nacional de Artes Plásticas. Ministerio de Cultura, Gerona.
Works for sale by Pelayo Ortega at Aurora Vigil-Escalera Art Gallery:
If you are interested in any of the artworks bellow or would like to receive further information about this artist, please click here.