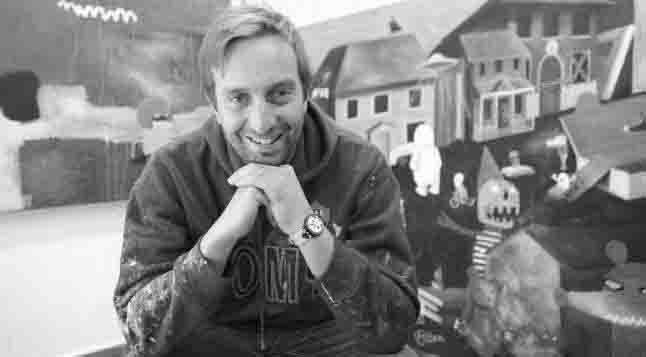 Edgar Plans (Madrid, 1977)
His work is influenced by colorful posters, graffitis, and casual notes. The result are powerful paintings, of dizzying brushstrokes and intense colour. To his credit is also his personal instrumental synthesis and the characters in a highly imaginative world singularly portrayed.
In some of Plan's works the artist deals with social issues such as abuse, violence, pollution with childlike Iconographies. Thus, aiming to provide hope to the represented issues with the use of bright and vivid colours in contrast with cold and sad themes.
Edgar has exhibited in cities like Gijon, Leon, Barcelona, Madrid, Segovia, La Habana, Mexico or La Coruña and participated in contemporary art fairs such as Art Madrid, Art Brussels, ForoSur, or Art Paris.
He has received important awards and scholarships such as the Daniel Martinez Pedrayes Drawing award, Certamen Nacional de Pintura de Villaviciosa, XIII Carbonera Biennial, Third Prize at the Certamen Nacional de Pintura Casimiro Baragaña, Acquisition Prize at Torres García Ciudad de Mataró, AlNorte curatorial project grant, Finalist at the Certamen Nacional de Luarca o International Painting Prize at Luis Adelantado.