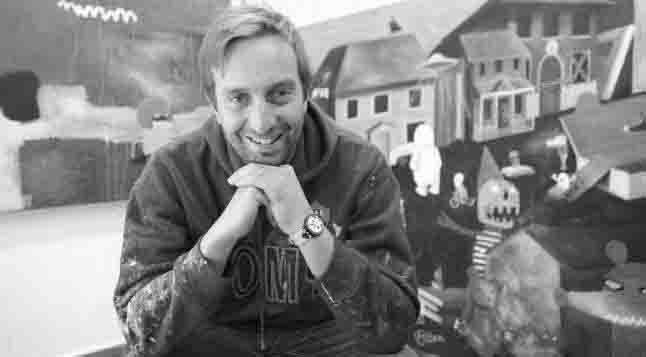 Edgar Plans (Madrid, 1977)
Edgar Plans has a degree in Art History, but, in his own words, he "doesn't have academic studies in the art world." As a child, he attended the workshops of Carlos Roces and José María Ramos, then he wanted to fly on his own and thus began a painting career with a very personal style, halfway between graffiti, pop art and illustration, greatly influenced by Art History and specially the works of Jean-Michel Basquiat. In paintings of dizzying brushstrokes, dense impastos and intense colors, his recognizable characters become the focus of attention as a result of his singular imagination. From his cartoonish monsters to his world-acclaimed Animal Heroes.
Since his first exhibition in 2005, he has been constantly working on shows worldwide in such important venues as the MOMA Museum in Moscow, Russia, the Xiao Museum in Rizhao, China or the Guggenheim Museum in New York; as well as numerous Contemporary Art fairs such as Arco in Madrid, Art Central in Hong Kong, Art Dubai in Emirates or Art Miami in the United States; and with his celebrated collaboration with the NBA for its 75th anniversary. His works are part of public and private collections such as the Museum of Contemporary Art of Havana, Cuba, the Museum of Fine Arts of Asturias, the Eduardo Úrculo Gallery Museum, the Illuro Foundation, the La Caixa Foundation, the María Cristina Masaveu Peterson Foundation and the Government Board of the Principality of Asturias.