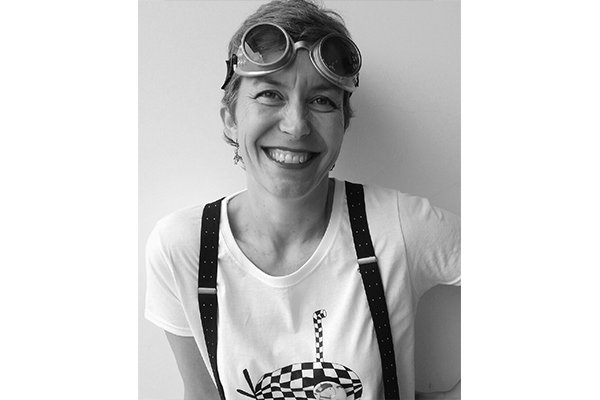 Eva Poyato (Cartagena, 1972)
With a degree in Fine Arts from the University of San Carlos and a Masters in Graphic Art, Eva Poyato likes to use her hands to create and her studio table is always full of papers, fabrics, sheets, wood, branches, wires, hooks, seeds, and an endless number of small objects that suddenly take shape on paper, canvas or sculpture.
In his compositions, cleanliness, order and a certain minimalism continue to predominate. All the elements (characters, clouds, trees, houses, boats, aeroplanes…) pose as if by pure chance on clean backgrounds of colour, studied conscientiously. The simplicity of the images and the symbols that compose them, their narrative will and the feeling they are charged with connect fully with the spectator and invite him to share a smile with their author. With her works reminiscent of fables and fantasy stories, Eva invites us to explore her inner world, while she herself unravels her own dreams, memories and anecdotes. This way of creating and her own style are also an attitude, a way of facing and showing herself to the world.
Eva Poyato's work has received several awards, grants and mentions, and is part of institutions such as the Museo Del Grabado Español Contemporáneo in Marbella, the Fondo cultural C.A.M. (Caja de Ahorros del Mediterráneo) in Alicante, the Fundación Centro Internacional de la Estampa Contemporánea C.I.E. C Betanzos in A Coruña, the Casa Falconieri in Italy, the Caravaca City Council, the Department of Education and Culture of the Region of Murcia, the Cabildo of La Palma de Gran Canarias, the Pilar and Joan Miró Foundation, the Casa Pintada- Cristóbal Gabarrón Foundation in Murcia, the City Council of Ceuti, the Kloster Bentlage Art Centre in Germany, the National Library of Spain, the Regional Library of Murcia and the College of Telecommunications Engineers.
Digital catalogue:
Works for sale by Eva Poyato at Aurora Vigil-Escalera Art Gallery:
If you are interested in any of the artworks below or would like to receive further information about this artist, please click here.