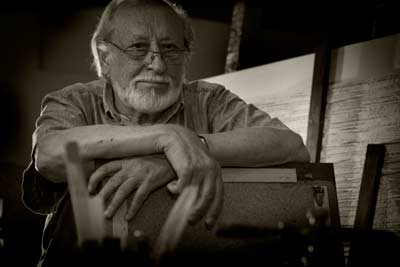 Francisco Farreras (Barcelona, 1927 – Madrid, 2021)
A key figure in the Spanish abstract avant-garde of the second half of the 20th century. His work is characterized by volumetric play and the physicality of the piece, the sobriety and formal refinement, the austere chromaticism and the incorporation of extra-pictorial materials such as sewn fabrics and strings.
After a very brief figurative beginning with oil and gouache, he broke with the tradition of the time to explore informalism and geometric abstraction, to which he applied sand in an early exploration of different materials in paintings. Soon he began to experiment with collages of tissue paper and black backgrounds, before moving on to his particular "coudrages" based on wooden boards, slats and cotton fabrics, and finally to wooden assemblages. The famous wooden reliefs have dominated his work since the late 1980s, from delicate small paintings to imposing large formats. They are made up of recycled materials from scrap yards and waste, in a game of shadows, volumes and textures in which paint also appears through more traditional elements such as oil.
Farreras has participated in countless solo and retrospective as well as group exhibitions in galleries, museums and cultural centers around the world, such as the MoMA, the Guggenheim, the Spanish Pavilion at the New York World's Fair, the Venice Biennale or the TATE of London. Among his public works, stand out two murals for the Barajas airport and the Hotel Príncipe de Asturias on the occasion of the Seville Expo, as well as the frescoes of the Castillo de las Naves del Marqués or the stained glass windows of the Spanish chapel in the Manila Cathedral .
His work is present in important museums, foundations and public collections: The Tate Gallery (London), The Salomon Guggenheim Museum (New York), The National Museum of Modern Art (Tokyo), Centro de Arte Contemporáneo Reina Sofía (Madrid), Spanish Abstract Art Museum (Cuenca), Juan March Foundation, Chase Manhattan Bank Collection (New York) …
Works for sale by Franciso Farreras at Aurora Vigil-Escalera Art Gallery:
If you are interested in any of the artworks bellow or would like to receive further information about this artist, please click here.