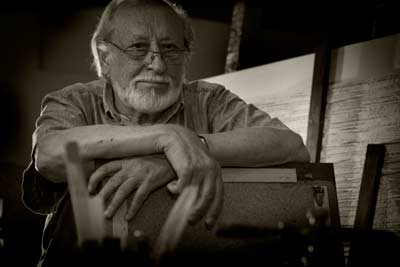 Francisco Farreras (Barcelona, 1927):
Key figure of the abstraction avant-garde in Spain from the second half of the twentieth Century. His work is characterized by volumetric contrast and physicality of the workpiece, sobriety and formal refinement, the austere chromaticism and the incorporation of extra-pictorial materials such as stitched fabrics and strings. Collages, coudrages, as well as wooden reliefs from the end of the eighties -some of them in large format- highlight his work.
Farreras has participated in countless solo exhibitions (some retrospective) and in group ones at museums, art galleries and cultural centers around the world (Madrid, Paris, London, Chicago, New York, Los Angeles, Mexico, Lisbon). Additionally he takes part in prestigious international fairs such as ARCO, Art Cologne and Art Frankfurt.
His work is present at important museums, foundations and public collections: The Tate Gallery (London), The Solomon Guggenheim Museum (New York), The National Museum of Modern Art (Tokyo), Centro de Arte Contemporáneo Reina Sofía (Madrid), Museo de Arte Abstracto Español (Cuenca), Fundación Juan March, Chase Manhattan Bank Collection (New York)…
Artwork by Francisco Farreras available at Aurora Vigil-Escalera Art Gallery:
If you are interested in purchasing any of the artworks below, or would like to receive information about Francisco Farreras, please click here.