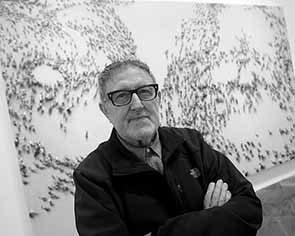 Juan Genovés: (Valencia, 1930)
To speak of Juan Genovés is to speak of the recent history of Spain. His firm belief in transforming art and his commitment to the environment led him to form part of very significant groups on the Spanish post-war scene: Los Siete (1949), Parpallós (1956) and Hondo (1960). In this last group, which represented new figurative approaches to Informalism, Genovés developed an expressionist and provocative painting.
Genovés uses the technique of Giclée or digital printing with a particularity: each one of the copies has subsequently been hand-printed, signed and numbered by the artist himself, which gives each work its unique status.
He has always been a artist in whom his formal inquiries converged with a strong social concern and a great interest in the renewal of figurative approaches.
Juan Genovés, trained at the School of Fine Arts in Valencia, was from the beginning a restless and concerned artist about the need to renew Spanish art, as well as the role of art and the artist in society.
The last few years his work, Juan Genovés has begun an extensive research on static movement in painting, and the crowd has become the starting point to talk about the challenge involving painting and visual rhythm.
Juan Genovés has been awarded the Honourable Mention at the XXXIII Venice Biennial in 1966, the Gold Medal at the VI San Marino International Biennial in 1967, the International Marzotto Prize in 1968, the Spanish National Art Prize in 1984, the Valencian Art Prize in 2002, the Gold medal for merit in the Arts by the Spanish Culture Department in 2005.
Digital Catalogue for IR Y VOLVER, monographic exhibition by Juan Genovés at Aurora Vigil-Escalera Art Gallery:
Works for sale by artist Juan Genovés at Aurora Vigil-Escalera Art Gallery
If you are interested in purchasing any of the artworks below, or would like to receive more information concerning Juan Genovés, please click here.