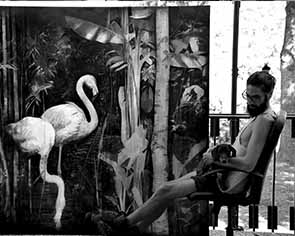 David Morago (Madrid, 1975)
Morago's production is firmly rooted in nature, replicating fauna and flora in his peculiar "cabinet of curiosities", inspired by the Renaissance practice of collecting and displaying art along with minerals, botanical and zoological specimens, etc. The artist combines these concepts to create his own "chamber of wonders" through which the viewer accesses his personal collection. His detailed iconographies are complemented by his "Books", which are a product of his passion for archives and refer to the importance of the documentary collection of every museum.
Morago's work stands out for the impeccable technical quality with which he portrays each subject. As well as for his practice of combining this figuration with abstract backgrounds, seemingly random spots of color and small touches that "reveal" the artifice of the work, the nature of the painting itself. The artist thus endows what would have been a perfect academic exercise in realism with a sense of humor and a brilliant imprint of personality.
David Morago graduated in Fine Arts from the Complutense University of Madrid and has been the recipient of several awards such as the 1st prize at the El Retiro Park X National Painting Contest, the 1st prize at the Boadilla del Monte National Painting Contest, the 1st prize at the 22nd Drawing Contest by the Museum of the Georgio Prieto Foundation or the Acquisition Prize of the 72 Valdepeñas International Exhibition of Plastic Arts. His works have been part of solo and group exhibits from Spain to Canada, as well as being displayed in fairs such as Singapore International Contemporary Art Fair, Malaysia International Contemporary Art Fair, ARTMADRID and Barcelona Artexpo, among others.
Digital catalogue: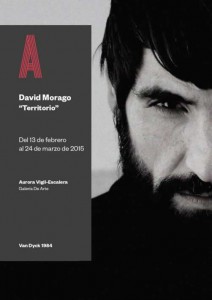 Works for sale by David Morago at Aurora Vigil-Escalera Art Gallery:
If you are interested in any of the artworks bellow or would like to receive further information about this artist, please click here.