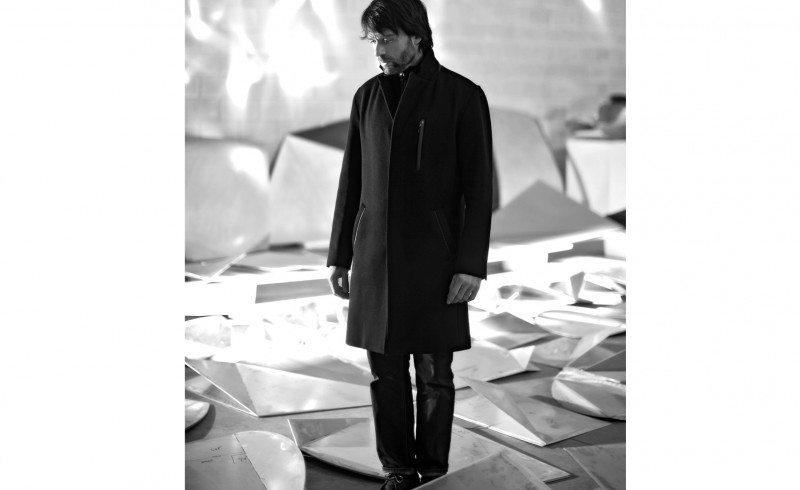 David Rodríguez Caballero (Palencia, 1970):
He lives and works in New York City. David Rodríguez Caballero is a sculptor of refined lines who usually uses materials such as aluminium, brass and bronze, playing with the light refractions on the surfaces, both in the metal folds and in the free-standing sculpture. In addition, David Rodríguez Caballero experiments in other plastic fields with his work on vinyl, in addition to making forays into the field of jewelry, where the curved line appears for the first time and then moves to the large format. The curve brings with it the novelty of the movement in the face of the greater statism provided by the fold.
Jewelery is responsible for the expansion of his sculpture, which jumps from the wall to the round bulge, generating new relationships with the space in which it is located. The play of the concave and the convex, of the curves that expand or contract generate sculptures that gain in organicity.
Light is the leitmotif of Rodríguez Caballero's work, as well as the light refractions on the different shapes and materials that draft his conceptual and aesthetic base.
A tireless creator, David is always in constant search of new shapes and materials. This restless character is reflected in his work, in which it is possible to observe a meditated, coherent and fluid evolution, without jumps or brusqueness. In such a way that the different series of his work interfere and influence each other.
Rodríguez Caballero has exhibited nationally and internationally, highlighting his exhibitions in Monaco, New York and Miami. He has also participated in numerous art fairs such as the International Contemporary Art Fair in Miami, TEFAF Maastrich, Contemporary Istanbul, Art Basel Hong-Kong, Art Rio, ARCO and Estampa.
He has received numerous awards and scholarships and his work is part of collections such as the Patio Herreriano Museum in Valladolid and the Olor Visual Collection in Barcelona.
Digital Catalogue:
Artworks for sale by David Rodríguez Caballero at Aurora Vigil-Escalera Art Gallery:
If you are interested in purchasing any of the following artworks, or would like to receive information about this artist, please click here.