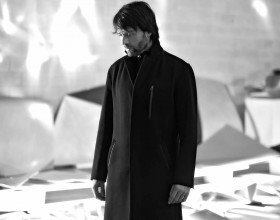 David Rodríguez Caballero
David Rodríguez Caballero (Palencia, 1970)
The metal sculptures of David Rodríguez Caballero exhibit fluid and refined lines that play with the reflection of the light and the movement of the curve. His preferred materials for his large wall or free-standing sculptures are bronze, aluminium and brass, although he has expanded his work into explorations of vinyl, origami and even jewelry. A tireless creator, Rodríguez Caballero is always in constant search of the expresive and aesthetic propieties of new shapes and materials. Through meditated investigations from his New York studio, he keeps exploring how each fold and bend interacts with each other and with the space around them.
His restless character is reflected in his work, in which it is possible to observe a constant but meditated, coherent and fluid evolution. The different series he has created though the years interact with and enhance each other in a completely recognizable corpus.
The artistic work of Rodríguez Caballero has been exhibited in galleries, museums, public institutions and art fairs all over the world, including the Moscow Museum of Modern Art (Russia), Würth Museum in La Rioja (Spain), the Museum of Navarra (Spain), the Oteiza Foundation Museum (Spain), Art Basel Miami, Art Basel Hong Kong, MACO (México), ARCO Madrid, Art Rio de Janeiro, Contemporary Istanbul Art Fair and Armory Show in New York, among others.
In addition, he has been awarded the First International "Bodegas Dinastía Vivanco" Engraving Award (La Rioja, Spain, 2008), First Prize of IX Mostra Colección Unión Fenosa (Unión Fenosa Museum of Contemporary Art, Spain, 2006), Volksbank Paderborn First Prize in Painting (Paderborn, Germany, 1996) and Pamplona Young Artists First Prize in Painting (Pamplona, Spain, 1995), to name a few.
His works can be found in multiple international collections, such as Repsol, BBVA, Coca Cola Foundation, the Würth Museum (La Rioja), Dinastía Vivanco Museum of Wine Culture, Unión Fenosa Museum of Contemporary Art (MACUF), Patio Herreriano Museum, the National Library of Spain, the Town Hall of Pamplona, the Palace of the Popes (Viterbo, Italy), the Volksbank Foundation (Paderborn, Germany), the Museum of Navarra, the National Institute of Statistics (Spain) and ISE Cultural Foundation (New York / Tokyo).
Digital catalogue:
Works for sale by David Rodriguez Caballero at Aurora Vigil-Escalera Art Gallery:
If you are interested in any of the artworks bellow or would like to receive further information about this artist, please click here.